IN THE SPOTLIGHT AT AMPP ANNUAL CONFERENCE & EXPO 2022
---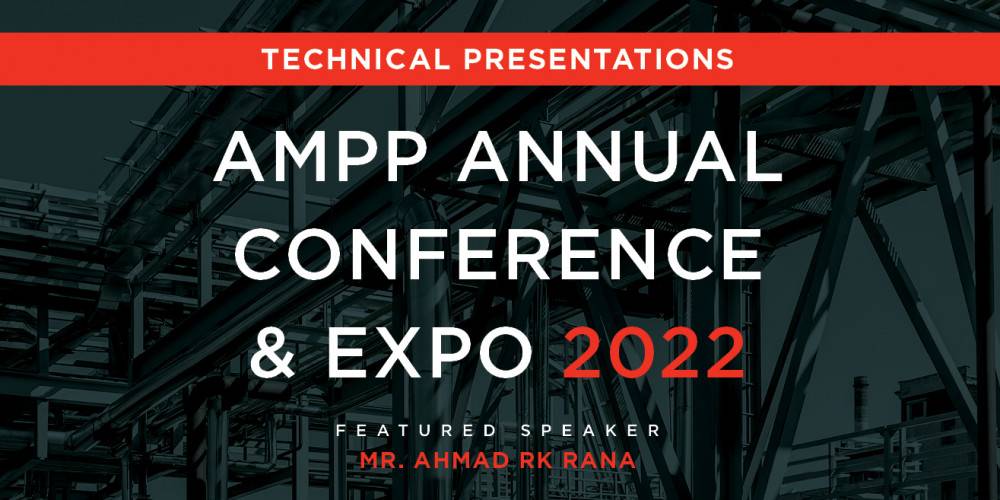 IN THE SPOTLIGHT AT AMPP ANNUAL CONFERENCE & EXPO 2022
AMPP Annual Conference & Expo 2022 offers a week of dynamic programming, solutions, and discovery that will bring together customers, partners, and thought leaders.
Integrity Products' very own Mr. Ahmad Rana is making his second appearance at the AMPP Annual Conference & Expo March 6th to 10th. With numerous publications under his belt, sharing his wealth of knowledge is nothing new for Ahmad.
Starting on Monday, March 7th, Ahmad is presenting the following talks:
MONDAY, MARCH 7, 2022


8:35 AM MST

Coating Failures
Corrosion Under Insulation Behavior Of Phenolic Epoxy Coatings Under Contacting And Contact-Free Insulation
ABSTRACT
CUI (corrosion under insulation) is reportedly a contributor to the failure of insulated piping and process equipment. Protective coatings are among various effective measures to manage the CUI of industrial assets. Phenolic epoxy is among the widely used coatings under thermal insulations. This research work involves CUI testing of phenolic epoxy coating for 192 hours as per applicable ASTM standard G189-07 using cyclic wet operating conditions. The resulting weight loss from the test was converted to corrosion rate followed by microscopic checks. The as-coated (i.e., new) surface and post-test coatings were characterized using microscope and surface topography to account for damage modes and surface roughness. Phenolic epoxy coating under contacting insulation suffered a higher material loss rate, dis-bonding, and holiday defects tendency in comparison to contact-free insulation with low-point drainage.
---
MONDAY, MARCH 7, 2022


10:25 AM MST

Flow Assurance in Oil and Gas Productions
Corrosion Under Insulation Performance Of Insulation Stand-Offs And Non-Metallic Membranes
ABSTRACT
CUI (Corrosion Under Insulation) is among the key damage mechanisms affecting equipment and piping in hydrocarbon processing facilities, as well as pipelines. The key reason behind CUI is the contact of soaked insulations with the metal(s). Insulation stand-offs and membranes can keep the soaked insulation off the pipe and mitigate CUI risk. This research study addresses the CUI simulation tests to characterize the corrosion behaviors of carbon steel under isothermal wet and cyclic wet conditions, in the presence of insulation stand-offs, low point drains, and Teflon membranes. The corroded coupons were characterized using microscope and surface topography to investigate the damage modes namely pitting, uniform corrosion, localized damage. Insulation stand-offs with low point drains showed uniform corrosion in comparison to closed-contacting insulation, which mainly caused localized corrosion and pitting. Teflon membrane with low point drains caused the least corrosion rate among candidate configurations and did not show any noticeable surface damage from pitting or even uniform corrosion.
---
MONDAY, MARCH 7, 2022


2:25 PM MST

Mechanisms of Localized Corrosion
Localized Corrosion Management For Thermally Insulated Systems Via Insulation Stand-Offs And Low Point Drains
ABSTRACT
CUI (corrosion under insulation) is a major damage mechanism affecting the integrity of process equipment, piping, and pipelines. CUI is known to create localized corrosion and pitting under thermal insulations which trigger non-linear corrosion rates and end up in unanticipated leaks in industrial assets. Reportedly, detection and management of CUI-driven damages constitute 10% of the maintenance budget in a typical refinery. This study simulates the CUI behavior of carbon steel under fibrous stone wool insulation using four testing conditions namely Isothermal wet, isothermal wet-dry, cyclic wet, and cyclic wet-dry. The weight loss of coupons under each test condition was converted into corrosion rate followed by characterization of damage modes namely pitting, uniform corrosion via microscope, and surface topography. It also compares the corrosion behaviors in closed-contacting insulation to those produced under contact-free insulation with low-point drains under similar testing conditions. Unlike closed-contacting insulations, coupons under contact-free insulation with low-point drainage resulted in uniform corrosion, insignificant pitting, and reduced corrosion rates under all testing conditions.
---
TUESDAY, MARCH 8, 2022


10:25 AM MST

Pipeline Integrity
Moisture Management In Thermal Insulations For In-Service And Out Of Service Pipelines
ABSTRACT
CUI (Corrosion Under Insulation) is a key degradation in facilities and pipelines and known to drive 40% - 60% failures in the piping systems. CUI is known to trigger from the soaked insulations that are held in contact with the metal(s). Although high operating temperatures are perceived to reduce CUI risks, integrity issues happen due to condensation or sweating once the pipe/ equipment is brought through cyclic temperatures or transient conditions. With lower or even ambient temperatures, the content of liquid moisture within the insulation increases which ends up exploiting CUI risk. This issue of soaking becomes more pronounced in mothballed equipment/ pipes as there is no moth-balling method known that can keep the insulation dry once the pipeline is out of service. This article addresses the case study where the soaked insulations on pre-existing operational and out-of-service multi-kilometer pipelines were trialed for moisture retention affinity. Moisture readings were taken on candidate configuration on a biweekly basis over a period of 7 months. Both i.e., operational, and mothballed lines were also trialed with a novel moisture removal system namely Insulation Ventilation System employing low point drains, ventilation windows, and perforated stand-offs between the insulation and external jacketing. The operational segments of the pipeline with moisture removal systems in place exhibited the least moisture trapping and reduced TOW (time of wetness).
---
We are all very excited for Ahmad as he makes a big name for himself and continues to contribute towards the education of Corrosion Under Insulation.
To view AMPP's full conference schedule click here.